CTA Address 2021
21 Apr 2021
Thursday, May 6, 2021 - 12:00pm to 1:30pm
Sir Dieter Helm to give CTA Address
Leading environmental economist Sir Dieter Helm is to give this year's Chartered Tax Advisers' Address on the subject of environmental taxation and specifically the role that tax and other carbon pricing mechanisms can play in helping the UK and other countries to meet commitments for reaching net zero carbon emissions. He will give a 30-minute keynote speech and then join a panel to respond to questions from the audience. CIOT President, Peter Rayney, will chair the debate.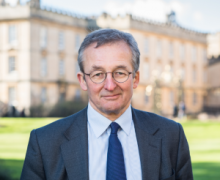 Sir Dieter Helm is Professor of Economic Policy at the University of Oxford and Fellow in Economics at New College, Oxford. He has provided extensive advice to UK and European governments, including The Cost of Energy Review for the UK government in October 2017 and for the European Commission in preparing the Energy Roadmap 2030. He was Independent Chair of the UK's Natural Capital Committee, providing advice to the government on the sustainable use of natural capital, until the end of the second term of the Committee in November 2020.
Sir Dieter has written many books, most recently Net Zero (September 2020, William Collins) in which he addresses the action we all need to take to tackle the climate emergency. In the New Year 2021 Honours List, he was awarded a knighthood for services to the environment, energy and utilities policy.
Panellists will include Jason Collins, Head of Tax for Pinsent Masons, and chair of the CIOT's recently established Climate Change Working Group, and Jill Rutter, Senior Fellow at the Institute for Government and a former senior civil servant, working at HM Treasury and No 10 as well as DEFRA, where she was Director of Strategy and Sustainable Development.