Elizabeth Linsley
15 Mar 2021
Following in her Father's footsteps and winning two medals on the way.
Elizabeth Linsley is a Tax Assistant Manager working in Private Client, Landed Estates for Saffery Champness LLP, which is ranked as the UK's 12th largest firm of Chartered Accountants.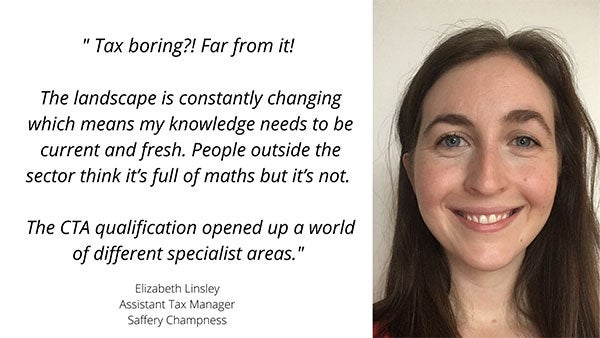 She completed CTA in 2018 and won two prestigious medals, the Spofforth Medal, awarded to a candidate with the highest mark in the Inheritance Tax, Trusts & Estates Advanced Technical paper and the Avery Jones Medal, awarded to a candidate with the highest performance in the Application and Professional Skills paper.
Elizabeth explains " Achieving the CTA qualification has helped me enormously. It has given me in depth technical knowledge about tax issues that I deal with on a daily basis. It also helped me with my writing skills, particularly the Application paper. I also studied Awareness (VAT/CT/Taxation of Unincorporated Businesses), Individuals and IHT, Trusts and Estates at Advisory and Individuals, Trusts and Estates at Application."