BPP Student Support
16 Mar 2021
Helping you Succeed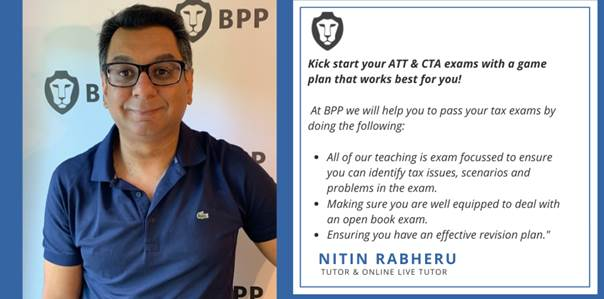 For all BPP and non-BPP students:
Contact att@bpp.com and cta@bpp.com, we have tutors available to provide help, support and guidance.
We have also produced FREE pre-recorded sessions on getting the most from your ATT studies and getting the most from your CTA studies, providing very useful exam related content.
There are also FREE Live webinar recordings available on how to use the legislation, please do get in touch if you would like a recording link.
In the meantime, we recommend you do the following:
Put together a realistic timetable of how much studying you will do each day.
Spend time understanding the technical content covered during the taught phase.
For BPP students there are fantastic resources available on the Virtual Learning Environment (VLE) and your tutors are on hand to assist with any technical queries.
Try and work through as many questions as possible. These are all accessible on the VLE.
Our commitment to you:
"On behalf of the entire tax team at BPP you have our full support. Your tutors are on hand to assist you at all times. It is incredibly important that you keep well and stay safe. You either contact your tutor via the VLE or email us at att@bpp.com and cta@bpp.com."
Nitin Rabheru. Tutor and online live tutor.
For Coronavirus student FAQs:
https://www.bpp.com/study/support/coronavirus-advice/faqs/professional-qualifications
Downloads
OMB X01 Nit BPP Summary Purchase of own shares FA20.pdf
T23 Nit Summary CFCs - TOMC FA20.pdf
Focus Session FA20 OMB Partnership CGT Revision Summary.pdf
TOMC Focus Session FA20 Transfer Pricing Nit Rev Summary.pdf
CTA OMB Adv Tech Contents Page Nit Version .pdf
TOMC Focus Session FA20 TOMC Revision Folder Contents Page.pdf
OMB X02 Nit BPP Summary CGT BADR FA20.pdf
T22 Nit Summary Permanent Establishments - TOMC FA20.pdf