Online Exams FAQs
13 Apr 2021
Here you will find a list of common questions about the online exam session, to help you to sit your exam using Exam4. You can also type in any question you may have into our chatbot, TaxBot, which can provide you with a comprehensive amount of information.
We are working hard to provide you with as much information as we can, so please check back regularly for updates and new FAQs. We will be sharing information and updates with the tuition providers too.
Have we answered your question?
We hope you have found the answer to your question, but if you need more information you can:
Visit these pages
Email us
If you still cannot find the answer, please email your questions to education@ciot.org.uk, and we will get back to you as soon as possible.
Sitting the exam
How long will I have to complete my exam?
For the exams in 2021, you will have:
Awareness
3 hours, 15 minutes
All other CTA exams
3 hours, 30 minutes

What is an open-book exam?
Open-book means you may refer to any books, study manuals, pre-prepared notes and online resources during the exam.
The exam will not be any easier because it is open-book. You must think carefully about which materials will best help you, and how to quickly find the information you're looking for.

When will you release the APS pre-seen information?
Pre-seen information will be released at 5pm on Wednesday 21 April.

How will I access the tax tables?
You will be given a link to download the tax tables approximately one month before the exam, you can either print it out for your exam, or save it to a convenient location on your device.
You will not be able to view tax tables within the Exam4 screen.

Can I sit the exam in my office?
Yes you can, but there are a few things to consider if you plan to sit the exam in your office:
You should advise your IT Department, and get their support. Share the IT Specification with them for more information.
You must test Exam4 from start to end in your office, well before the day of your exam. This is the only way to ensure that you are able to find any problems with enough time to resolve before your exam day.
Have a backup plan. Local lockdowns are a risk, so if you plan to sit your exam in your office, plan for what you would do if local restrictions prevent you from doing so. Test Exam4 from start to end in this backup location too.

Can I sit my exam if I am not in the UK?
Yes, but if you are not in the UK, the exam start time you will be given will be British Summer Time (BST). It is your responsibility to check what time your exam will start locally for you.

Will you be awarding membership based on professional experience instead?
No, membership of the CIOT will only be awarded once all the required exams have been passed and subject to satisfying the experience requirement.
Using Exam4
What features does Exam4 have, is it difficult to use?
Exam4 is really simple to use, the easiest way to describe it is as a basic word processor. It comes with features to help you format your answer, and make the edits you need. Watch our helpful guidance videos to get used to how Exam4 works.
When using Exam4 for the CTA exams, you will be able to access any document you have on your device (such as your study manuals) and also the internet, as it does not lock your device. However, remember you cannot copy and paste from external apps or resources into, or out of, Exam4.
You will be sent an email with details of how to download Exam4 approximately one month before the exam, giving you plenty of time to explore and get used to the features available to you.

Can I use a second screen and/or have my laptop plugged into a docking station?
Yes, as Exam4 is in "Open" mode, you can have a second screen plugged in and also use a docking station if you wish. Please watch the guidance videos for how "Open" mode works.
However, you must make sure you practise using the set up you are going to use on the day of your exams and also that it fully complies with the IT Specification. You can practise using the Viewable questions on Exam4.

How do I practice on Exam4?
Once you have downloaded Exam4 (from the link provided in the email sent to you) you can practise using the "Viewable Question papers" that are available on Exam4. You can do this as many times as you want, there is not limit to how many times you can access these.

When I am typing suddenly it is overwriting! What is going on?
You will have accidentally clicked on "Insert" on your keyboard. Click "Insert" again to stop this.
This is a Microsoft feature and when you are in Exam4 you can also click on "Help" at the top of the screen and then scroll down and select "Overwrite Mode". This also explains what is happening and how to stop it.

What does "open mode" mean in Exam4?
Open mode means that your device is not locked down and you can access everything else, such as the internet.
Exam4 uses open mode for the exams because the exams are open book.

How can I use the Viewable Question papers if I don't yet have my real five digit candidate number?
Just put in any dummy five digit number - we recommend you use 12345.
On the day of your real exam, you must enter your five digit candidate number. This will be emailed to you on, or before, Monday 12 April.

I have been practising using the Exam4 software but accidentally selected the real exam when starting rather than the Sample paper, does this matter?
No. Anything you submit before the day of the exam is irrelevant and neither the Viewable Question papers, nor anything accidentally submitted when selecting the real exam, will be marked.
On the day of your exam, just make sure you select the correct paper and submit your exam following the guidance videos available

My question paper does not appear in full on the right hand side, even though I have maximised Exam4 so it fills my full screen – what do I do?
There are a few reasons why this might be the case.
If you have maximised Exam4 on your screen, it is most likely that you need to reduce the font size within the Exam4 app. Try a smaller font size (see image below of where to change it), click through to the point where you can "Fetch" the Viewable question paper and see if you can now see the whole of the Viewable question paper.
Another potential reason might be that the "Scale and layout" on your individual device is not correct for using Exam4. Search for "Display" on your device and adjust the settings under the heading "Scale and layout". Usually 100% is the correct size for Exam4, even if on your device it shows 150% shows as being "recommended" try reducing it to 100% to see if this solves the issue. Again, change this and then reload Exam4, "Fetch" the Viewable question paper and see if you can now see the whole of it.
Alternatively, it may be that you do not have the requisite IT setup you need to use Exam4. Review the IT specification to check whether your screen resolution and operating system is supported.
NB - if you are trying to use a tablet, such as an iPad, the full question paper cannot be viewed. Remember you cannot use a tablet for your exam.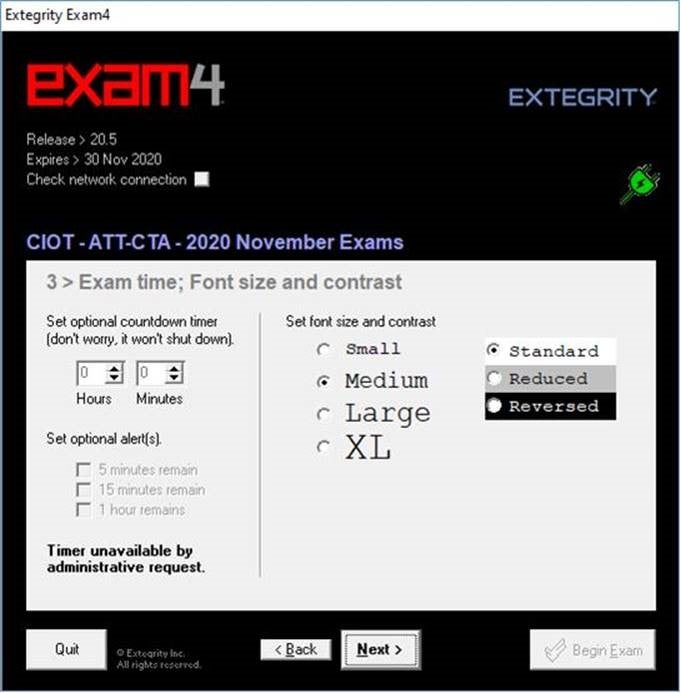 Using Exam4 (cont.)
Can I highlight parts of the question?
Yes, you can. However, think of the digital question papers as being broadly similar to a physical piece of paper, so you can highlight any part of the question papers – but you cannot undo your highlighting
The best way to get used to the exam functionality is to download and try out Exam4 as soon as it is available, and by watching our helpful guidance videos.

Can I copy and paste from the question paper to my answer?
No, this is not possible.
You can, however, zoom in and out on the question paper using the "slider" underneath the question paper.

Can I use a tablet to type my answers?
No. Exam4 has been built for use on laptops and desktop PCs, which means you cannot use a tablet to complete your exam - even with an external keyboard attached.
While tablet devices with a detachable keyboard may resemble a laptop, they are classified as tablets and are not supported by Exam4.
For Surface devices, check here if they are supported and make sure you have carefully reviewed the IT specification here.

What if something goes wrong during the exam, will I lose my work?
No. Exam4 auto-saves your work every few minutes, meaning you won't lose your work if something goes wrong during the exam.
In the unlikely event you have any issues with Exam4 on the day of your exam, refer to the troubleshooting guide.

When does my time start on Exam4?
Your exam start time will begin when you 'Fetch' your question paper. You must start the exam during the appropriate start window, as outlined in your Candidate email.
Make sure that you have watched the guidance videos showing you how to start Exam4 and 'Fetch' your question paper.
Remember – it is your responsibility to start - and end - your exam at the appropriate times.
Download the Candidate checklist from here and make sure you have made a note of the exam start and end time in the appropriate boxes. Also, make sure you have set personal alarms to help you manage your timekeeping.

How do I know how much time I have left?
You will need to manage your own timekeeping, so have a watch or clock handy during the exam.
Download the Candidate checklist from here and make sure you have made a note of the exam start and end time in the appropriate boxes.
Remember - the exam will not end automatically after the allotted time. You are responsible for ending it at the correct time.

Can I use Microsoft Excel?
No, but answering computational question using Exam4 is simple to do.
See the guidance videos which show you how to deal with computational questions, in particular how to insert rulers to create a visual guide to outline your answers. The rulers are a new feature on Exam4 for May 2021.
You can see an example of a calculation here under the heading "Upgrades for May 2021" which demonstrates how a capital allowances computation could be presented (taken from the OMB Advanced Technical paper in November 2019).

Will I have access to normal editing functions, for example copy and paste?
Yes. You can cut, copy and paste within your answers, undo/redo, and use bold, italics and underline. You can use these features either using their shortcut keys, or in the 'Edit' and 'Format' menus at the top of the screen.
For more information, watch the guidance videos.
Keep in mind, Exam4 prohibits cutting and pasting to, and from, external sources.

Can I print my exam paper?
No, you can only view it onscreen using the Exam4 software.
Watch our guidance videos which show you how Exam4 works.

I'm having problems using Exam4, what do I do?
First, try looking at all the guidance provided, as usually there are simple reasons why you might be having issues. Also, look at the rest of these FAQs, which may answer the queries you have.
If you cannot resolve your issue. you can email education@ciot.org.uk.
In the unlikely event you have any issues with Exam4 on the day of your exam, you can find our troubleshooting guide.
ID capture on the day of your exam
How do I complete my ID capture?
Watch the guidance video here which explains how the ID capture works to collect your selfie and photo of your ID.

When do I complete the ID capture?
On the day of your exam, we recommend you login to Exam4 at least an hour before the start window so that you can complete your ID capture process well in advance of the start window.

Remember you will only be able to access the question paper once the start window opens, so there is no disadvantage in logging into Exam4 early and completing the ID capture and making sure you are not having any other issues logging into Exam4 itself.

Will I need a webcam for my exam?
Yes, you will a webcam for the ID check.

If you do not have one built into your device, you should obtain an external USB one.

Will the webcam remain on during my exam?
Yes.

This is required for Exam4 to work correctly and do not disconnect your webcam after completing the ID capture process.

Why is my camera screen black in Exam4 when I start the ID submission process?
There are several reasons this could be happening.

It may be the privacy settings on your device are preventing Exam4 from accessing the webcam.

Search "Camera Privacy Settings" on your device. If you can find this and "Exam4" is not listed as being allowed to access your camera, that might be the explanation.

It may also be as simple as something physically covering your webcam, like a piece of tape or a "slider" that you can move across on your device. Also, if you are using a second screen and have closed your laptop screen, this would stop it showing any picture being available to capture, so lift your laptop screen up.

If none of these resolve the issue, please contact us education@ciot.org.uk.
After the exam
How can I verify my exam file was received?
Follow these simple steps:
Launch Exam4 and choose "Select existing exam"
Click on the exam you want to check
Click on the "View Exam Submittal Receipt" button - if you see a receipt, it was safely received!