Become a volunteer for the CIOT
11 Mar 2021
Are you interested in volunteering for the CIOT?
The CIOT welcomes members from all stages of their tax careers to volunteer for committees, branches and other aspects of the day to day efforts of the Institute.
In 2020, there were at least 681 volunteers across CIOT and ATT Committees and Councils - and across CIOT and ATT, volunteers contributed at least 19,922 hours of their time.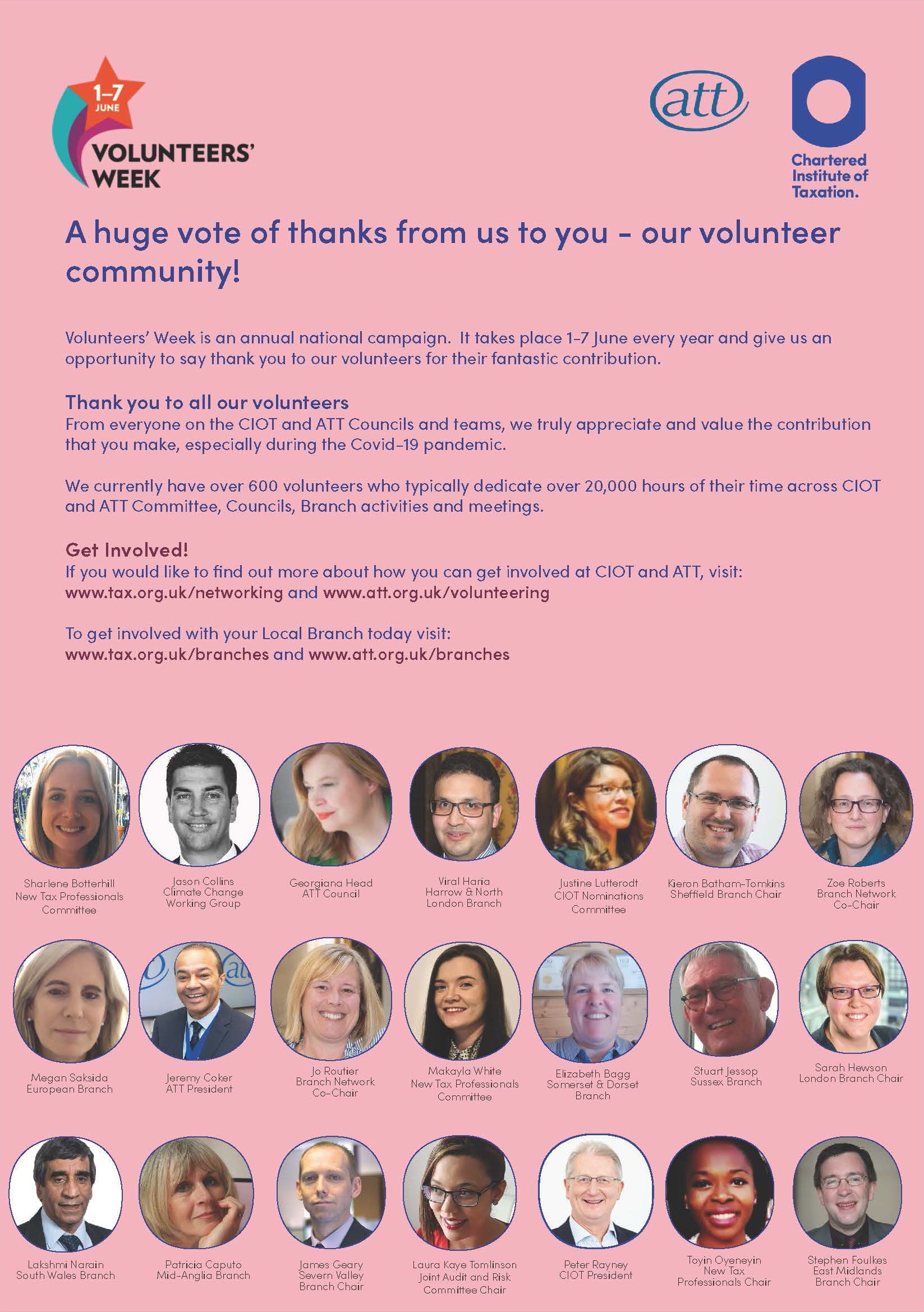 What do volunteers do?
Volunteers contribute to committees and sub-committees of the CIOT whose role is to help develop services to members, inform the format and frequency of events, review the support given to the Branches Network and monitor the support given to members in relation to compliance and other obligations of membership. Committee members sign up to a code of conduct and generally are invited to CIOT events as well as attending the regular meetings.
Volunteering for the Branch Network is highly recommended. In the words of a recent Chair, "Above all has been the sense of achievement from being able to make things happen. Whilst we are obviously a charity and do have procedures laid down by head office, there is a considerable amount of freedom to do what you and the committee think best in your own location and indeed try new things. WhiIst it was a bit disconcerting at first to try to work out exactly what I should do, I have enjoyed learning, bringing forward new initiatives and growing into the role."
What areas are you interested in?
Technical - Join a technical sub-committee
Getting involved with your local Branch - email branches@tax.org.uk or get in touch with your local Branch committee
Benefits of Being a Volunteer
Volunteering for the CIOT means that you will be working with the forerunners and influencers within the tax field.
The President thanks our volunteer community by inviting them to their annual reception, virtually or in person when it is safe to do so.
Volunteers are routinely invited to other events throughout the year.
Read more about why you should get involved with CIOT here.
Further Questions and Resources
To discuss volunteering for CIOT please call the Head of Member Services, Emma Barklamb on 020 7340 0578 or email membership@ciot.org.uk